Bus Part Design Optimization – a Win-Win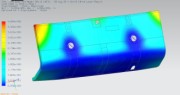 Investigating the potential for, and recommending improvements to, composite product performance to increase benefits for both customers and producers is becoming more and more prevalent as a service the CIC offers. Optimization of the design of an existing large composite door for natural gas cylinder storage located on the roof of existing New Flyer Industries' alternative energy buses is a typical example. The current fiberglass reinforced cored hand lay-up structure was considered adequate; however, New Flyer considered there to be better alternatives especially from a weight perspective in order to lower customer fuel costs and thus the carbon footprint of the vehicle. Reduction in manufacturing costs and improved quality were other significant reasons for this development opportunity. "Making better, lighter weight products that provide benefit to our customers is a continuing goal", stated Paul Cantin, of New Flyer Industries, "and when we can see a real payback in terms of the up front engineering costs quickly recovered through product cost reductions, it is just good business sense to go ahead with these type of projects". In close collaboration with the customer and part manufacturer, Carlson Engineered Composites, the CIC applied its suite of NX Computer Aided Design and Finite Element Software together with its knowledge of composite materials and processes to suggest several alternative designs. Having access to a materials data base to support the development of designs consisting of existing and new materials enabled a series of potential solutions to be presented. Weight reductions up to 18% were estimated together with associated cost benefits. A more consistent product through the introduction of a resin infusion manufacturing approach was also incorporated in the recommendations.
CIC Advances into New Territory: Composites for Green Buildings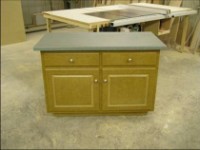 Green buildings, LEED®, sustainable construction: almost everyone has heard about what is going on in the construction industry, but what opportunities are there for composites and more importantly how do we make the most of them? To answer that, the CIC and the Manitoba Chapter of the Canadian Green Building Council coordinated a meeting in December, 2009 with a diverse group of people from architectural firms to distributors of recycled product to determine what opportunities and challenges lay in the way for developing a green building products industry locally. "The meeting was very informative and provided a great insight into the green building industry," commented Mercedes Alcock, one of the CIC's engineers working on the project, "it is very evident that the green building industry is growing and definitely needs the kind of innovations composites can provide". Specific aspects of the construction industry were highlighted related to certification and regulation issues, the hesitancy to adopt new products together with understanding their preferences. It is the CIC's intent to guide potential developers and manufacturers through the process of developing and marketing these types of products. Will Darracott, CIC's project manager for the Green Building project added, "There is a unique opportunity for manufacturers in Manitoba to be involved in developing green building products for construction. Local, national and international interest and demand is growing rapidly in this area. However, to effectively compete in the marketplace, any new product will have to be targeted to client's requirements, meeting the appropriate market conditions and taking full advantage of the properties of composite materials". The CIC plans to meet with a larger group in March, 2010 to further develop a roadmap for the industry and prepare plans to conduct marketing studies with key decision makers. Results will include selection of product ideas that would be of most interest to the construction industry and its clients as well as those wanting to manufacture them.